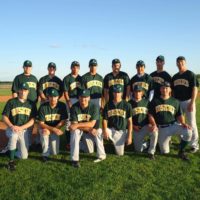 There may not be a Wheatbelt Baseball League season this year, but there may be some games taking place this summer.
Grimshaw Huskies player and coach Ty Wiebe says he's had talks with some of the other teams in the league about trying to have a some exhibition games.
"I think taking a full year off and not playing baseball would probably hurt the league quite a bit more than at least trying to get together, play some baseball and keep guys into it. I think if you take a full summer off, it will be a little bit harder to come back the next summer. If you can get a taste of it this summer, that will be good for next year and going forward as well."
Wiebe says his plan would be to have a few teams getting together on a weekend to play a handful of games.
"You get so used to being able to watch the Jays and stuff every week and you kinda get your baseball fill just sitting at home. It would be nice to get some live to get some live sports here and get some people to come out and watch and realize that it's decent baseball to watch and it's different being at the ball diamond than sitting on the couch at home."
According to Wiebe, he has so far had talks with two other league teams about this proposal, the Manning Mets and the Rycroft Rage.
– Kyle Moore, Trending 55 Newsroom