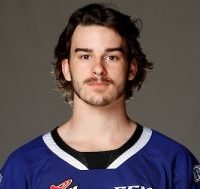 Falher's Devin Aubin says he's ready for his second season in the WHL.
Aubin now plays for the Victoria Royals and says a busy off-season for him helped him get prepared for this year.
"In the summers I work a full time job, so that helps with the busy schedule and working around things. Traveling to Grande Prairie for skating and working out at home, just having a busy schedule helped get me prepared."
Aubin was traded from Swift Current to Victoria in the summer and says there's a lot he can bring to his new team.
"Last year was a big development season for me. I gained a lot of confidence in the bubble. Going forward this season, I think I'm bringing a lot of confidence in my game and my work effort. I love really battling so I can compensate for my size. That's what I can bring."
You can listen to our full interview with Aubin below.
– Kyle Moore, Trending 55 Newsroom