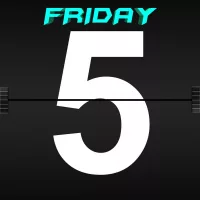 With Halloween on Tuesday and the most Halloween parties and events taking place tonight and tomorrow, I wanted to bring you last minute Halloween costume ideas in case you forgot about getting or making a Halloween costume. So this weeks Friday 5 is a number of quick fix costumes.
5. Wednesday Addams
We start things off with one that is a more popular costume especially over the years Wednesday Addams of the Addams Family. For this costume you just need to dress in all black and have double braided hair. Short, sweet and to the point, always looks good if you are pale like you just saw a ghost.
4. The Dude (The Big Lebowski)
Well one of the big cultural icons in The Dude can be easily done with  a bathrobe, a beard (real, fake or drawn on), a white shirt, a pair of shorts and sandals or slides. Now if it is worn in the work place I don't suggest carrying around and drinking White Russians.
3. Jolene
This is one is for all the Dolly Parton fans out these. Ideally it is as simple as a red wig or hair and a name tag that says Jolene. Yup that simple.
2. A Cat
A common costume, particularly for women but anyone can do. All you need is some cat ears and to draw whiskers on your face. Yup can't believe it is that easy. You can even make your own ears with a headband and some paper, with an optional tail.
1. Barbie/Ken
What will be a major costume this year after the success of the film Ken and Barbie costumes will be easier than ever. You just have to dress up how ever you want and just say you are *insert career* Barbie or Ken. You don't need a blonde wig/hair or to dress all in pink and is the ultimate last minute/lazy costume. Though if you are Ken you have to bring the Kenergy and no matter how simple the costume remember you are Kenough.
– Everett