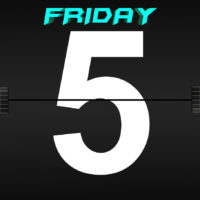 Since it is St. Patrick's Day today, I figure for the Friday 5 I would look at 5 things to do on St. Patrick's Day. Now I have gone HARD on this day and feel I can spread my wisdom to you all. St. Patrick's Day can be a really, really fun day whether you consume alcohol or not. So let's get to the this weeks Friday 5 and here is my list of 5 things to do on St. Patrick's Day.
5. Wear Green
It is the most basic and obvious thing to do on St. Paddy's Day is to rock the green. Even if you aren't a fan of wearing the colour it will stop you from getting pinched.
4. Try Irish Foods
Today is the day where we all are "Irish for the day" so if you have the chance to try some Irish cuisine I would … No I don't count Lucky Charms unless you are a kid.
3. Enjoy Green Foods and Beverages
Enjoy green themed drinks (alcoholic or not) and festively coloured or decorated foods. If it's got a shamrock on it is the day to enjoy it, though a lot of those foods and drinks have a mint taste to it.
2. Jam Out To Some Irish Music
On this day I personally choose to jam out to great Irish bands as well as Irish inspired bands. So crank up some U2, Dropkick Murphy and even though they are from Newfoundland and not Ireland I love to crank up some Great Big Sea.
1. Enjoy The Day Responsibly 
St. Patrick's Day is a day that has become a drinking holiday. I have gone HARD on this day and I wish I could forget last year …. It was bad. Don't be like me and enjoy this day responsibly. If you drink do NOT drive, have your way home planned. Get the hangover foods ready for tomorrow in advance
Have FUN today/tonight
– Everett