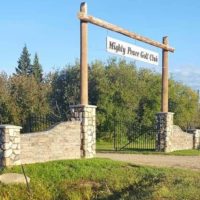 One of the owners of the Mighty Peace Golf Club says their preparations for this season were affected by the restrictions from the pandemic.
Dave Allen says they thought they wouldn't be able to open as soon as they did, but there are still some rules people will have to follow on the course.
"There's nothing that people can touch. There's no rakes, no ball washers, the flags are in but they're set up so that the balls actually don't go in the holes. They can't touch the flag. Certainly some changes have been made and they seem to be working ok."
Allen says people will have to call ahead to book tee times so they can comply with social distancing rules.
"We're slotting tee times a little bit further apart so there's a little more spacing on the course. They'll come in and there's directional arrows so that we can keep people physically distant from each other. Then they get out to the first tee and away they go."
So far, only the first nine holes can be played on the course right now, but Allen says the back nine should be ready by this weekend.
The restaurant at the course will also be open, but with limited capacity.
– Kyle Moore, Trending 55 Newsroom