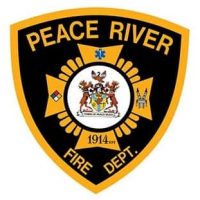 Peace Country — As the May Long Weekend approaches, the risk of wildfires in the Peace Country has hit yet another high this season. Fire bans are spreading, quite literally, like wildfire across the region and this may have a significant effect on campers wanting to sit by an open fire this weekend.
As it stands right now complete fire bans are in place for a majority of Northern Alberta, here is a complete look at how the region is looking heading into the long weekend:
Fire Bans are in effect for the following regions: 
The Town of High Level
The Town of Manning
The Village of Nampa
Northern Sunrise County
County of Northern Lights
Northern Alberta Forest area
M.D of Peace
No open fires or off-road vehicles are permitted in these areas during the fire ban.
Fire Restrictions are in effect for the following regions: 
The Town of Peace River
The M.D of Smoky River
The M.D of Fairview
Birch Hills County
Campfires in these areas must be supervised at all times and properly extinguished until it is cool to the touch.

—

In order to ensure the safety of yourself and others you are encouraged to follow the proper procedures in your area. If you see a wildfire be sure to report it by calling 310-FIRE (3473).

— Preston Hodgkinson, Trending 55 Newsroom

Tags: