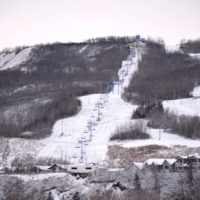 The Misery Mountain Ski Hill has their AGM taking place on Thursday.
Past president Lynden Waites says they're looking to get some new members on their board.
"We've had some members of our past board move away so we're a little bit short on board members at this point, so we'd like to get some new blood in there to help out. It has been a couple of rough years with COVID, things have changed drastically. We did have a good year last year even though there was so many restrictions, we were very busy last winter so we'd like to keep that enthusiasm going."
Waites says they'd like to get quote "as many new members as we can."
"The more that we have on, the less workload that everybody has and there's a decent amount of workload there. Right now, we're down to four members. Ideally we'd like to have 8-10 new members on the board to help out. It's a fun time and very enjoyable. I've been doing it now for 31 years and it helps out the community."
That meeting goes Thursday at 7PM at the Misery Mountain Ski Chalet.
– Kyle Moore, Trending 55 Newsroom