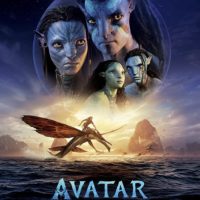 The sequel to the 2009 blockbuster hit is out! But is it good?
Visually this movie is absolutely breathtaking. I am so glad that I went and saw this film in theatres because the CGI and effects that were used are so beautiful. As per the title, there is a lot of water and deep sea creatures shown in the film. All of that is animated really well and portrays a world that I would want to live in…or at least visit.
The movie takes place years after the first one…which is fitting considering that it has been years since it came out. Jake Sully now has a family but the humans are not done with him. They have sent a party to hunt him down and finish him off for good. In order to protect his family and the people of the forest he decides to leave and seek sanctuary among the reef people. Although they are different, the Sully family must learn their ways and hopefully survive the group viciously hunting them down.
Overall I was not a super big fan of this one. It by no means was awful, as I had said previously it is visually amazing. where it starts to fall apart for me at least is the story. It was nothing too groundbreaking. Not every movie has to be, but when it's 3 hours and 12 minutes long, it should be doing something unique. There were multiple tropes and cliches that I had seen before which they did all tie together in the end but was strange that was what they chose to do with it.
At the end of the movie, there are no end credits scenes but near the end of the movie, they had some key things happen to set up for another sequel because if I am not mistaken they plan to make 5 of these films.
Below I have included the teaser trailer for the movie which showcases the world of Pandora and shows a taste of just how visually stunning this world can be.
-Jared Gomes