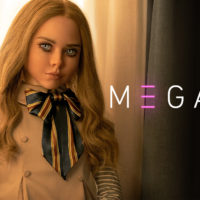 Oh boy, where do I begin?
So this movie starts by introducing us to Cady who losses her parents and is then taken into custody by her Aunt Gemma. She works for a toy company that is always innovating with new and better toys. The most recent project that Gemma is working on is M3GAN which she believes will be the last toy a kid will ever need. M3GAN will be able to play with kids read them stories listen to them tell stories and so much more. Everything seems to be going great M3GAN pairs with Cady and they become fast friends. M3GAN helps Cady forget about her recent loss until things take a dark turn.
That is the basic premise of the movie and with that framework, I thought that they could have taken the story in a multitude of different ways. They just didn't…Because of that, it didn't end up being all that spooky for me. I found myself laughing a lot more than jumping in fright. It could be due to her being a robot but there were a lot of awkward scenes that just made me uncomfortable and I'm not sure why these happened.
The story is my main gripe with the movie. Production-wise, it was really well done. M3GAN as a robot girl really looks the part and the sets were really well done along with the camera work. I just felt like it set out to be a horror movie but didn't scare me all that much and ended up falling short on that front
Below I have included the trailer to check out. If you have some questions like why she just dances in the trailer…don't worry that doesn't get answered.
d
-Jared Gomes