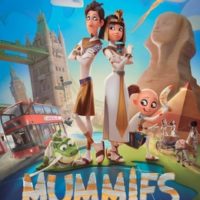 A fine family film…About Mummies.
I had only seen a couple of trailers going into this but no major buildup, unlike other movies set to release soon. So, if you are a little confused as to what this movie is about let me tell you. The princess of this dead, ancient, mummy, civilization is set to marry whoever is chosen for her. However, due to some interference, she winds up getting paired with Thut who is an ex-charioteer. He quit racing after experiencing an accident and has never been the same since. The problem with their marriage is they both don't want to go through with it. Although Thut is given the task to safeguard the wedding ring regardless. If he doesn't he will suffer a grave punishment. He stores the ring in what he thinks is a safe location. It still ends up getting stolen. This Spurs Thut his younger brother and the princess to all travel to the land of the living to retrieve the lost wedding ring.
Over the course of their journey, they get up to a lot of fun antics. What you might typically experience from a fish out of water scenario. The mummies attend plays, go to the mall, and even become pop sensations. This movie has a lot of wild moments.
One of my favourite moments was at a very sad scene "faraway" from Nickleback begins playing which was something that I was not expecting. Yet oddly enough fit the scene fairly well.
Doing a bit of research, it seems that this movie was made by a smaller studio. It was also this director's debut film. Keeping that in mind I think it did fairly well. The animation was also very well done.
When I went to see it a birthday party was going on as well. All the other families and children in the theatre were having a good time and laughing at the jokes. If you want to check out more of this movie you can watch the trailer below.
-Jared Gomes