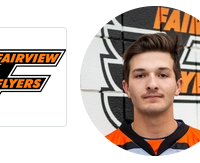 This week on the NWJHL Player Profile, we're talking to Eric Dentinger of the Fairview Flyers. He's been the team's leading for the past two seasons, but the Flyers have yet to play in the regular season because of COVID-19 concerns but are scheduled to face Sexsmith on Saturday.
We talked to the Nampa product about how the team is trying to stay sharp, being an alumni of the Peace River Royals, hockey influences for him growing up, and more.
You can listen to the full interview below.
– Kyle Moore, Trending 55 Newsroom