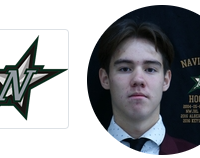 It's time for another NWJHL player profile. This week we are taking a look at North Peace Navigators forward Keegan Ferguson. The 19 year old from High Prairie, AB is in his second season with the Navs. He's scored one goal in two games this season and that goal was the game winner in the Navs 6-5 come from behind win over Sexsmith last Saturday.
We talked to him about that, getting ready for another home-and-home set with the Vipers this weekend, his hockey influences growing up in High Prairie, the pre-game routines he goes through, favourite pre-game meals and more.
You can listen to our full interview with him below.
– Kyle Moore, Trending 55 Newsroom