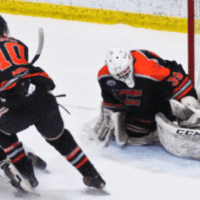 Teams in the NWJHL are still playing the waiting game for when this season will start.
Fairview Flyers head coach and GM Lance Wiebe says the league is still waiting for approval from Hockey Alberta before they can start playing.
"I don't know if anybody is too keen on playing much hockey without having fans in the seats. That's the restriction right now. You're limited with your capacities at your facilities and that's making it tough on everybody. We're sitting and waiting for that opportunity to get on the ice and get rolling."
Wiebe says even if the season gets delayed or shortened, he doesn't expect any impact on fan support at their games.
"Things might look a little different. It may deter a few people from showing up, but at the end of it, I think if we're allowed to have the capacity that we normally do, there's gonna be our typical fanbase there. I don't really have too many concerns with that at all."
Wiebe says when they do begin training camp, they won't have as many players at camp then they usually have so they can have a more "solidified roster" before the season starts.
Some other junior hockey leagues have announced that their seasons will be delayed.
The WHL will start their season on December 4, while teams in the AJHL can begin training camps on August 31 but won't play any games until getting Hockey Alberta approval.
– Kyle Moore, Trending 55 Newsroom