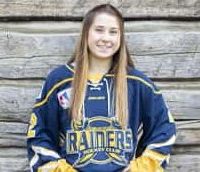 A local player from the Peace Region has been named by Hockey Canada to the national women's under-18 summer camp roster.
Spirit River's Dayle Ross says she was surprised when she received the camp invitation, but is looking forward to the opportunity to be a part of the national women's team.
"A lot of people are supporting women's hockey, and I think promoting women's hockey for me shows that just in a small town how far you can go. It's amazing what girls can do. It doesn't matter when they're from, as long as you work hard."
Ross has spent the past two seasons playing Midget AAA hockey in St. Albert, and says the program has been very good for her.
"Our coach is amazing, the team is amazing. Even just going to the Esso Cup was unbelievable, it's an amazing experience. Just being able to play at that level of hockey is good for development and even just the people you meet through this program is amazing."
You can check out our full interview with Ross below.
– Kyle Moore, Trending 55 Newsroom