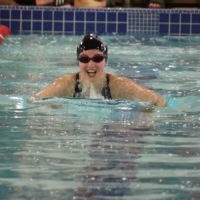 Our Subway Athlete of the Month for March is Aimée Gagnon.
She is a grade 11 student at École des Quatre-Vents in Peace River who competes as both a swimmer and a cross country runner.
Gagnon will at the swimming provincials coming up in Calgary and says she's "super excited" about it.
"It's my first provincials where I'm going as a swimmer. I'm working really hard and hopefully it pays off."
She's also competed at the provincial level as a cross country runner and she trains with the cross country team at Glenmary School.
Gagnon says it was important for her to try different sports.
"I had spent my whole life swimming and had never really tried anything else. Then I tried running and I discovered that I really like it also. So it's good to try different things because you never know if you're going to like it or not."
Congratulations Aimée and best of luck this season.
– Kyle Moore, Trending 55 Newsroom