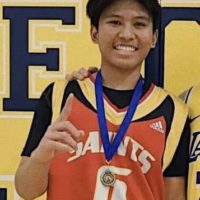 Our Subway Athlete of the Month for April is Kurt Saluna.
He's the captain of the men's basketball team at Glenmary School and was the MVP of the 3J Zone Championship which Glenmary was the winners of.
Saluna says the team had a lot of motivation to win the title this season.
"At the start of the season, there were people doubting us on whether we could win it again and I took that personally. I started working out and taking it more seriously. We made it to the finals in all of our tournaments, winning three golds and three silvers. It was a fantastic season for us."
His coaches describe him as being a good example to his teammates, and Saluna says he tries to make everyone around him better.
"I'm one of the oldest guys on the team so I have to set a good example of the younger players who will have to lead the team next year. That's my main goal is to teach them how to be a leader and how to put in that work every practice."
Congratulations to you Kurt.
– Kyle Moore, Trending 55 Newsroom