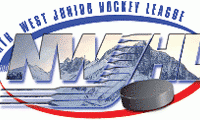 The NWJHL seasons now hits the month of December.
We're coming up on the second half of the regular season with an important break coming up on the horizon.
The league will have its Christmas break from December 22 to January 2.
NORTH PEACE NAVIGATORS
Just one game of the Navs last week.
They got two goal games from Dawson Gour and Cole Isaac in a 7-1 win over Sexsmith.
North Peace has a two point lead over Dawson Creek for second place, with the Navs and Canucks playing a home-and-home set this weekend.
FAIRVIEW FLYERS
At the bottom of that logjam in the middle of the standings is the Flyers.
Fairview lost a pair of overtime games last week, 3-2 to Fort St. John and 2-1 to Grande Prairie.
They'll look to get back in the win column on Saturday when they visit Sexsmith.
SEXSMITH VIPERS
November was a month to forget for the Vipers.
They lost nine of the ten games they played, the losses last week coming at the hands of the Kings (3-1) and the Navs (7-1).
Sexsmith will begin the month of December with two home games, Grande Prairie on Friday and Fairview on Saturday.
GRANDE PRAIRIE KINGS
The struggling Kings managed to win both of their games last week.
They got a 3-1 win over Sexsmith and 2-1 overtime win over Fairview.
This week will see them play three games in four nights, Dawson Creek on Wednesday, Sexsmith on Friday and Fort St. John on Saturday.
DAWSON CREEK CANUCKS
The all-BC battle didn't go the Canucks way.
Dawson Creek lost 7-4 on Saturday to Fort St. John.
The Canucks will also have a three in four nights stretch this week, they'll be at home to Grande Prairie on Wednesday before playing a home-and-home set with the Navigators.
FORT ST. JOHN HUSKIES
Two more wins adds to the Huskies lead atop the standings.
A 3-2 overtime win over Fairview and a 7-4 win over Dawson Creek stretches their winning streak to seven straight.
The Huskies will play in Grande Prairie on Saturday.
– Kyle Moore, Trending 55 Newsroom