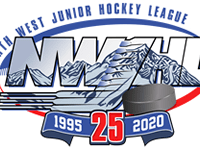 We're down to the last week of the regular season for the NWJHL.
All six teams have just two games left to get ready for the playoffs.
A few teams still have some things to play for down the stretch.
NORTH PEACE NAVIGATORS
After wins over Grande Prairie, Sexsmith and Fort St. John, the Navs control their own destiny when it comes to locking down the number two seed.
All they have to do is beat the Canucks in Dawson Creek on Friday and they will clinch a first round bye for the playoffs.
They'll finish the regular season with a home game on Saturday against Fort St. John.
FAIRVIEW FLYERS
The Flyers look to enter the playoffs strong as they got wins last week over Dawson Creek and Grande Prairie.
Fairview is the number four seed right but could maybe move up to the three seed provided that they get a number of things to go their way.
They need to win their last two (at Fort St. John on Friday, vs Grande Prairie on Saturday) and hope that Dawson Creek loses their last two.
SEXSMITH VIPERS
The number six seed in the playoffs still can't buy a win in 2020.
You have to go back to November 16 to find the last win for the Vipers.
Sexsmith will host Dawson Creek on Saturday before visiting Grande Prairie in the last day of the season on Sunday.
GRANDE PRAIRIE KINGS
The number five seed is another team dealing with a losing streak right now.
Losses to North Peace, Fort St. John and Fairview has Grande Prairie on a seven game slide.
The Kings this week will visit Fairview on Saturday before facing Sexsmith on Sunday.
DAWSON CREEK CANUCKS
The team with the most variables in play right now is the Canucks who could finish as either the #2, #3 or #4 seed.
Winning just one of their last two would assure them no worse than third, while two wins plus the Navs losing their last two would put Dawson Creek in second.
The Canucks two games are against North Peace on Friday, and at Sexsmith on Saturday.
FORT ST. JOHN HUSKIES
The Huskies will have the number one seed for a third straight year, and the last two years saw them winning the league title.
Their winning streak was finally snapped last week though as they lost 4-2 at home to the North Peace Navigators.
Fort St. John will be at home on Friday against Fairview before visiting Peace River on Saturday.
– Kyle Moore, Trending 55 Newsroom