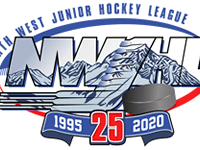 Only a few games are left in the regular season for the NWJHL.
The playoff picture got slightly clearer last week with the Grande Prairie Kings now locked into the number five seed.
There's still a logjam for the two, three and four seeds that will be sorted out over the next two weeks.
NORTH PEACE NAVIGATORS
The Navs seem to be getting hot again as they now have a three game winning streak.
They got a 33 save shutout from Ryan Noble in a 3-0 win over Fairview.
Up next are home games against the Kings on Wednesday and the Vipers on Friday, before visiting Fort St. John on Saturday.
FAIRVIEW FLYERS
One win and one loss last week for the Flyers.
They rebounded from their 3-0 loss to North Peace with a 3-2 shootout win over Sexsmith.
Fairview is the four seed right now, they'll need to win their two games this week (Friday vs Dawson Creek, Saturday at Grande Prairie) and get some help to move up.
SEXSMITH VIPERS
The Vipers losing streak has now hit 20 games, on the bright side though they've come close to ending that streak recently.
Sexsmith came up short in a couple of one goal games, 3-2 against Fort St. John and 3-2 in a shootout to Fairview.
They have two road games this week, Dawson Creek on Wednesday and North Peace on Friday.
GRANDE PRAIRIE KINGS
The Kings know they will have to start the playoffs on the road after what happened last week.
A 6-1 loss to Dawson Creek and an 8-4 loss to Fort St. John means Grande Prairie has now lost four in a row.
They now have a stretch of three games in four nights, in North Peace on Wednesday, in Fort St. John on Friday and at home on Saturday against Fairview.
DAWSON CREEK CANUCKS
The Canucks only have a one point lead for the number two seed and a first round bye.
Dawson Creek got a 6-1 win over Grande Prairie in their only game last week.
They're at home to Sexsmith on Wednesday before visiting Fairview on Friday.
FORT ST. JOHN HUSKIES
You can now make it 15 straight wins for the Fort St. John Huskies.
They continued their roll by getting past Sexsmith 3-2 and Grande Prairie 8-4.
The Huskies have two home games this week, Grande Prairie on Friday and North Peace on Saturday.
– Kyle Moore, Trending 55 Newsroom