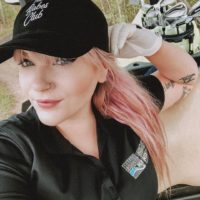 I am not an avid golfer, I have only been golfing for about 5 years, and I only get out 3 or 4 times a season, but I do think it is something you need to try this summer.
I had never been very interested in golf, but 5 years ago my boyfriend and I were visiting my family in Ontario and they decided they would make me go. I had a lot of fun (the drinks help). It has become something that I do with my family every time I make a visit home and it's also something you can do when you travel; it's really cool to check out new courses and the scenery is always so beautiful! Golf is a great way to get out of the house and be active while feeling like you're doing no physical activity at all. It's also super satisfying when you have a really great hit, even if it sucks when you lose a few balls.
In the Peace, we usually check out Mighty Peace Golf Course or Heart River, but I have also played the course in Grimshaw. We have some really nice courses here!
But one of the main reasons that you should try golf this summer is its a very easy activity to do with friends while still maintaining proper social distancing. We are making it so easy for you to try golf with KIX FM Golf Days, not once…but twice a month. On the second and fourth Wednesday of the month from June until September you can play 18 holes of golf for just 10 bucks at the Mighty Peace Golf Course.
And of course, my favourite thing about golf is the dorky clothes.
-Kelsey