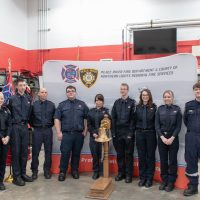 The Peace River Fire Hall was packed with young firefighters and their families at last night's third annual Firefighter Graduation Ceremony.
In total, 10  new, fully fledged firefighters have joined the ranks of the Peace River and County of Northern Lights Fire Departments.
The graduates were:
For the Peace River Fire Dept.
Megan Frizzell
Will Gervais
William Halabisky
Danika Jurczak
Allanah Kalyniuk
Jonathan Provost
Matthew Steeves
Maria Wieler
For the Dixonville Fire Dept.
Cameron Jackson
For the Weberville Fire Dept:
Tristan Sanchuk
"Their learning doesn't stop here," says Fire Chief Tim Harris. "There's continuous training that we do every week, and further courses they'll do over their time with the Fire Department."
Last night's ceremony didn't only shine a spotlight on the graduates, but also current firefighters receiving promotions. Both Dan Cruickshank and Elysia Pan have been promoted from Firefighter to Engineer.
The ceremony wrapped up with the official induction of Cornelio Esguerra as the Fire Department's Chaplain.
"They're a great bunch of guys and girls," says Harris. "Everyone brings new skills and new dimensions to the department. We're very pleased and very proud to have them as members of the Fire Department."
Harris adds the Town of Peace River now has 33 firefighters and the County of Northern Lights has 14.