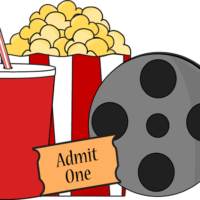 Well after a year of many releases in theatres and on streaming services I have somehow managed to make a list of my top 10 movies of 2022. Now I can only rank movies I have seen so sadly no Avatar 2, Babylon, or The Whale which are all movies I wanted to watch but sadly didn't or couldn't.
10. The Northman
The Northman is a great movie that tells the story that inspired Shakespeare's Hamlet. The story find a prince on a mission of revenge against his uncle who killed his father and took over his kingdom. The biggest issue in the great film is whether it is an art picture or not, as it tends to lean into that realm and back out to more mainstream. Nevertheless it is a great movie to watch.
9. The Banshees of Inisherin 
A lesser known and more independent style film The Banshees of Inisherin tells an interesting story of an ending friendship between life wrong friends Pádraic (Colin Ferrell) and Colm (Brendan Gleeson). The movie takes interesting turns and logic especially as one gets older. It can be dull at times for some but was a great movie.
8. The Fablemans
The Fablemans is basically Stephen Spielberg's life story told and who better to bring a story about the joys and love of wanting to be a filmmaker than one of the greatest to ever to do it. It is a great movie that has plenty of nominations for awards and I am sure it will rack up nominations when the Academy Award nominations get announced. It easy to see why from everything about it.
7. Guitar Lessons: The Movie
A small Canadian movie that does the trick with some great humor and drama. Guitar Lessons stars country music star Corb Lund as a bitter old man who keeps coming across a young man who has a very familiar guitar who takes him under his wing. The story has great sub plots including gambling addiction and past love interests. The movie was originally the idea and written as a television show that shows that Canadian cinema isn't dead.
6. The Batman
A separate film from the DCEU came The Batman. It is Robert Pattison who dawns the cape and cowl as the caped crusader Batman/Bruce Wayne as he deals with the criminal underworld of Gotham City. Batman must deal with The Riddler, Penguin, Catwoman and other en route to saving the city. The movie does a great job of showing that Bruce Wayne is the other persona and not Batman. While it is overloaded with characters it does a great job of setting more should it go in that direction.
5. Bullet Train
A strange premise that turns into a great movie is how I would describe Bullet Train. Bullet Train sees a guy take a snatch and grab job turn deadly on a bullet train in Japan. He encounters many people after the same item after another agent calls in sick. Never has a movie intended for mature audiences featured Thomas The Tank Engine so much. It was a great movie that has you guessing as twists and turns continue to happen right to the very end.
4. Glass Onion: A Knives Out Story
The cult classic of Knives Out had a lot to live up to in the sequel Glass Onion, and it delivered. While I personally like the first one better it had high hype and cleared the bar with an interesting story to continue on the franchise with Daniel Craig returning as Detective Benoit Blanc. The story has all the twists and turns of the original with great new characters. Janelle Monáe, Dave Batista and Kate Hudson stand out in the cast. I cannot wait for the third movie that will be on Netflix when it is released.
3. Violent Night
Taking the bronze this year is a movie that many would not expect to see on this kind of list or maybe they would since I am making it. Violent Night has made its way past a number of great movies to the number 3 spot thanks to the humor and just pure ass kickery it brought to make a new holiday classic in my opinion.
2. Puss in Boots: The Last Wish 
This one might be cause of recency bias as it was the last movie I saw as were numbers 3 and 4 but say what you will about a movie for kids audience but it was of Shrek quality. The movie had me laughing hysterically as well as tears streaming down my face. Dreamworks continues a tradition of knocking these animated movies out of the park. The ending also teases Shrek 5. No matter how old you are you should really see this movie.
1. Top Gun Maverick
Well it should be no surprise that the movie of the year for me was Top Gun Maverick. In a world of things not coming close to the hype the sequel to Top Gun went past the extremely high hype bar to create an instant classic. The story of Pete "Maverick" Mitchell coming to the end of his run and dealing with the past as sets to teach/train what appears to be a near impossible mission. We finally get to see Penny Benjamin, the admirals daughter that was referenced quite a bit in the first movie and the story just hits you square in the feels while bringing you all the action you expect from a Tom Cruise or a Top Gun movie. The addition of Val Kilmer reprising his role despite his health was the cherry on top of this epic sundae. By far the best movie of the year, nothing was close.
-Everett