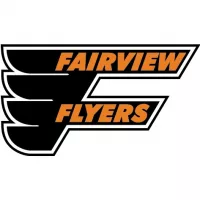 The Fairview Flyers are ready to begin the NWJHL season.
Lance Wiebe, the Flyers head coach and GM, says they had a good number of returning players at their training camp.
"We had what we expected for returning players and then a large addition of new guys looking for spots so we had a fantastic showing with lots of guys on the ice and gave us a good look at several players."
Last season, The Flyers finished in last place and missed the playoffs after winning just three games in the regular season.
Wiebe says they hope that their returning players build off some learning experiences from how last year went.
"More than half of our roster were new last year so we knew we were gonna have a tough one, but we fought through it and made lots of improvements and that's what we're looking to do this season is to build and be bigger and better for this year."
The full interview with Wiebe can be heard below.
Flyers regular season schedule.
September 15 vs Grande Prairie
September 16 at Dawson Creek
September 22 vs Fort St. John
September 23 vs North Peace
September 27 at Dawson Creek
September 29 at Grande Prairie
September 30 vs La Crete
October 4 at Sexsmith
October 6 at Beaverlodge
October 14 at La Crete
October 15 at La Crete
October 20 vs Sexsmith
October 21 vs Beaverlodge
October 27 at North Peace
October 28 vs Dawson Creek
November 1 at Sexsmith
November 3 at Beaverlodge
November 4 at Fort St. John
November 10 vs Grande Prairie
November 12 at North Peace
November 18 vs Dawson Creek
November 24 vs Sexsmith
November 25 vs Beaverlodge
December 1 vs North Peace
December 2 vs Fort St. John
December 8 vs La Crete
December 9 at Grande Prairie
December 16 at Beaverlodge
December 17 at Dawson Creek
December 20 vs Fort St. John
December 29 at North Peace
January 5 vs Grande Prairie
January 6 at Fort St. John
January 12 at Sexsmith
January 14 at La Crete
January 19 vs Beaverlodge
January 20 vs Dawson Creek
January 31 vs North Peace
February 2 at Fort St. John
February 3 vs La Crete
February 9 vs Sexsmith
February 10 at Grande Prairie
– Kyle Moore, Trending 55 Newsroom