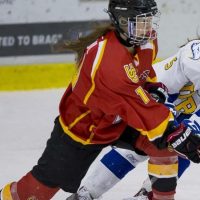 Fairview hockey player Rachel Paul says she likes the challenge of balancing both school work and playing hockey.
Paul currently plays on the women's team at the University of Calgary.
She's also a nursing student and says it's always keeping her occupied.
"Pretty much its just whenever you have spare time, you have to use it, you have to study. It's sometimes easier when you don't have time, because you know you just gotta get things done. It's been pretty good. I like being busy so it hasn't been too bad."
Paul also says that women's game has been "growing tremendously" adding that she has seen more and more young girls taking part in the sport.
"I work with an organization out of Calgary called "Fast and Female". We work with little girls in sport and it's just incredible to see the girls game growing. There's so many teams already. I grew up playing boys hockey but once you get to the bigger cities, there's tons of teams and programs for girls."
You can check out the full interview with Paul below.
– Kyle Moore, Trending 55 Newsroom