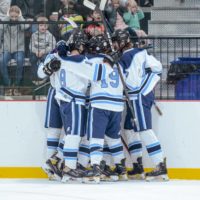 The La Crete Lumber Barons are calling their first season in the NWJHL a success.
Dennis Paul, the GM of the Lumber Barons, says they had a lot of players and coaches who were new to the junior B level.
"It was a team of rookies right from the bench staff through to the folks on the ground. We did get a couple of acquisitions earlier in the year and Andre Giesbrecht was our anchor in the net. He had some NWJHL experience with Fairview. Other than that, it was just all the kids getting to know the systems and the process and finally trusting it. You could see that from start to finish."
The Lumber Barons finished in fifth place during the regular season before losing a tough first round series with the Dawson Creek Kodiaks.
Paul says they had a younger roster this season and they want to add to that youth and speed in the offseason.
"We're very solid with the coaching staff at this point, having Dion Knelsen through this first year was great. He really wants to take it forward and get prepared for next year. If we can get some energy around some new players that might want to come in, he's very fitness focused and he wants to get that message out to some of the young guys that will be trying out next fall."
Paul says the team is looking to host a spring camp in late April.
You can hear out full interview with Paul below.
– Kyle Moore, Trending 55 Newsroom