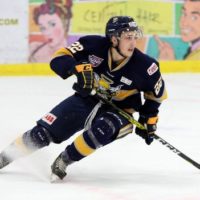 A hockey player from Manning is looking to make an impact in his final season of junior hockey.
Kye Whillans plays for the Spruce Grove Saints of the AJHL and says playing in front of fans again will be a big boost.
"I had about 14 family members in the stands at our home opener so that was pretty special to me. It's my last year of junior hockey and it's awesome to see fans in the building this year."
Whillans says after playing a limited schedule last season, it was important for him to be well conditioned for this year.
"It takes a lot. It's hard on the body and especially as you get older, you need to be in the right mindset. You need to be in the right shape to be playing 60 games. It's a lot of ice time and lots of practices and workouts so I made sure I came into Spruce Grove in shape and ready to go."
You can hear our full interview with Whillans below.
– Kyle Moore, Trending 55 Newsroom