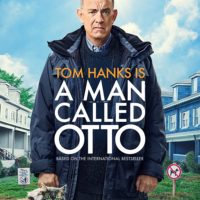 Tom Hanks is here, you know that it is going to be a good movie.
A man called Otto is about this grumpy old man who has suffered a recent loss. His wife has passed away and he decided that he doesn't want to live in a world without her. Until he meets the new neighbours. They offer him friendship and care. He even bonds with their kids. Throughout the movie, he learns that there can be life after loss and joy can still be found even after a tragedy.
This is a movie that will definitely tug at your heartstrings. Honestly, at first, I didn't quite know what to expect but by the end, I was leaving the theatre with a tear…or two…ok it was a lot… this movie was really well done.
A Man Called Otto is actually based on the book A Man Called Ove and had a previous film by the same name. Without knowing the original this newer version with Tom Hanks is fantastic. The whole cast is able to portray their characters so well. All of the emotions come across excellently on the big screen it really makes you fall in love and get attached to each one of the characters. Although it is just a short film you really do feel each event that occurs because you feel a part of these characters' lives.
I would definitely check this movie out if you are looking for a well-done emotional film. Although do take into account that the film does handle some darker subject matter dealing with the struggle of death grief and loss. This newer version with Tom Hanks
Below is the trailer for the movie and if you are curious give it a watch. I would say that it does a good job of highlighting some of the happier aspects of the film but it isn't afraid to go to some dark places that will make the happy scenes even more bittersweet.
-Jared Gomes