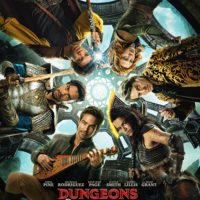 A Critical Hit!
There have been other D&D movies in the past and although I have not watched them I have not heard very favourable things. Going into this I was hesitant but after checking it out I realized I had nothing to worry about.
What an excellent movie this is. As a fan of movies, fantasy and Dungeons and Dragons this checked all my boxes. Although if you are not a fan of Dungeons and dragons I feel like you can still get a lot of enjoyment out of this movie. At its core, it is just a great fantasy movie told in the world of dungeons and dragons and the story that it tells is something that everyone can understand.
Our protagonist Edgin is trying to bring his wife back after losing her to the Red Wizards. although things don't go according to plan and his party of adventurers ends up betrayed. so after escaping prison he must reunite with his daughter and try to bring his family back together.
The whole idea with D&D is a world where anything can happen and this leads to many interesting and hilarious things throughout the movie. They have one overarching quest that the main party is working toward but throughout it, they get sidetracked by other errands that they have to do in order to compete for their main goal.
throughout their adventures, we see a variety of locations everything from lava-filled mountains, and forests to great cities all of them are very unique and interesting and most are nods to locations named in the world of Dungeons & Dragons.
The Best part about a D&D campaign is, of course, the characters. throughout the movie, we have a party of 4 that each have unique backstories that get told as we go on this quest with them. These 4 definitely seem like a character that someone could play in a d&d campaign and definitely act like it too from some of the crazy antics that happen to the bickering amongst them. They are a tight knight group of friends. Throughout their journey, we also meet others like a paladin who is stoic and bland but the best at everything and totally feels like a character that would be introduced by a dungeon master in d&d.
So, with all of the references and callbacks to the tabletop RPG, this movie is defiantly worth checking out for any fan. but even if you are not a super big fan of D&D I think this is totally worth checking out anyway and can stand on its own as a great movie. If you still want more check out the trailer below.
-Jared Gomes