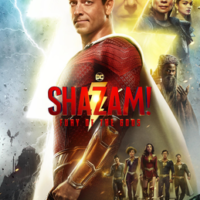 Grab your popcorn, drink, and Skittles! as you head on down to the theatre to check out the latest Superhero Flick!
Shazam! Fury of the Gods is the second Shazam movie. We pick up a while after the first movie. All of the kids have been using their powers for a while now and although are not the best at protecting the city are trying their best. Since it has been some time the kids are starting to grow up and grow apart a bit but there comes a big threat which forces them to throw their differences aside and work together to try and overcome them.
I enjoyed the movie. I had fun with the first film. If you did too, this is more of that. Shazam as a character has always been a fun concept, A young kid with the body and powers of an adult superhero. This movie keeps delivering on that. These heroes don't know what they're doing they're not the best…or even the brightest. Despite that, you still want to see them try and overcome the villains.
This could potentially be the last time we see Shazam! James Gunn's new vision for the DC universe may or may not include Shazam. It might all hinge on how well the movie does. Although in the movie some characters show up that directly bring it into the new universe. Those who worked on the movie say nothing is going against James Gunn's vision for future movies. This is a good sign because I do hope we see more shazam.
I enjoyed this movie and if you are still on the fence you can check out the trailer below. Just know that if you do go and see it stay till the end of the credit. I mean THE VERY END. There are two post-credit scenes to watch so don't miss them!
-Jared Gomes