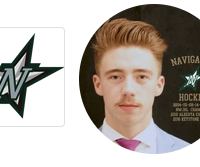 On this week's edition of the NWJHL player profile, we're talking to North Peace Navigators goalie Chris Key.
The Falher, AB is in his third season with the Navs. Some of the things we talked to him about include his relationship with goaltending coach Ryan Noble, helping the other goalies on the team, what to expect from their season opener next week against Sexsmith, future plans after this season and more.
You can listen to our full conversation with Key below.