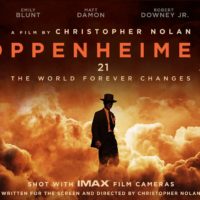 The official trailer for Christopher Nolan's latest film Oppenheimer has dropped. The story centres around starring  J. Robert Oppenheimer, the American theoretical physicist credited with being the "father of the atomic bomb" for his role in the Manhattan Project—the World War II undertaking that developed the first nuclear weapons.
This isn't Nolan's first time tackling World War 2 historical dramas as he made the celebrated Dunkirk back in 2017.
The movie boasts a stellar cast with Cillian Murphy as Oppenheimer, with notable names like Emily Blunt, Robert Downey Jr., Matt Damon, Florence Pugh, Rami Malek, Kenneth Branagh and Josh Hartnett.
The movie seems to be one you could see being up for Academy Awards in many categories, but we will see how it all turns out when it is scheduled to be released July 21, 2023
Check it out the official trailer here:
-Everett