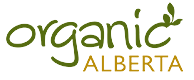 It's a gathering of the organic community to network, learn, and celebrate.
The 2023 Organic Alberta Conference is slated to take place November 3rd and 4th at the Clarion Conference Center in Sherwood Park.
Farmers, ranchers, speakers, and a trade show will be present for the two-day event.
Diversity and impact on the Agriculture Industry will be the core of building a resilient and hope-filled future.
This is especially true in the Northwest as around three-quarters of the organic community comes from the Peace and Mackenzie regions.
A Director and Northern Region Representative of Organic Alberta, is Pierre Fillion.
Keith Hopper, Trending 55