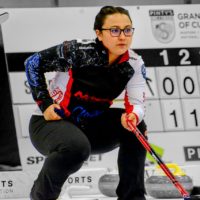 When the national Scotties Tournament of Hearts taking place in Kamloops begins February 17th, Team Skrlik who is representing Alberta will be in Pool A.
The tournament is in two pools are 9 teams and only the top 3 from the pool will advance to the championship pool, then the top 4 will go into the page playoff system. Skrlik will have to play some tough opponents including the 3x defending national champions Kerri Einarson.
The pools are:
Pool A
1. Canada (Einarson)
4. Wild Card #1 (Lawes)
5. BC (Grandy)
8. Nova Scotia (Black)
9. Alberta (Skrlik)
12. PEI (Birt)
13. Saskatchewan (Silvernagle)
16. Quebec (St-Georges)
17. Nunavut (MacPhail)
Pool B
2. Ontario (Homan)
3. Manitoba (Jones)
6. Wild Card #2 (Scheidegger)
7. Wild Card #3 (Walter)
10. New Brunswick (Kelly)
11. North West Territories (Galusha)
14. Northern Ontario (McCarville)
15. Newfoundland  (Curtis)
18. Yukon (Birnie)
I can see 4-6 wins for Skrlik, a 5-3 record is usually good enough to go to the championship pool or at the very least a tie breaker. I wish Kayla and Ashton the best as they prepare for some tough match ups with the likes of Einarson and Lawes and teams like Birt and Grandy are no push overs. I always look forward to watching the Scotties but nevermore than this one.
-Everett