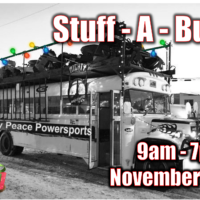 A radio station staple of the holiday season is happening on Friday.
Stuff-a-bus is taking place from 9-7 in the parking lot downtown.
Mighty Peace Powersports has been supplying the bus for a number of years.
New this year, a second bus will be present at Mighty Peace Powersports on the West Hill.
Non-perishable food and/or unwrapped toys are being accepted.
Proceeds go to Salvation Army and Food Bank in Peace River.
Brett Smyl is the GM of Mighty Peace Powersports.
He talks the day, the event, the fun the cause and the Season of Giving.
Keith Hopper, Trending 55