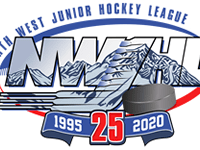 We're now into the second half of the league schedule as we get closer to the holiday break.
All six teams will be off from December 22 to January 2.
Everyone will be trying to get some more wins under their belts for the next two weeks before the break.
NORTH PEACE NAVIGATORS
Back-to-back wins over Dawson Creek have the Navs just one point out of first place.
They got a 5-3 win on Friday before winning 6-5 in overtime on Saturday.
North Peace will have a chance to move into first this weekend as they'll face Fort St. John in a two game set this weekend in Peace River.
FAIRVIEW FLYERS
Sitting in fourth place right now are the Flyers.
Their one game saw them get a 5-1 win over Sexsmith thanks to a three point night from Valleyview product Rylee Hebert.
This week, the Flyers will host the Vipers on Saturday before going down to Grande Prairie to face the Kings on Sunday.
SEXSMITH VIPERS
Goals have been hard to come by for the Vipers.
They scored just two goals in losses to Grande Prairie and Fairview.
Things won't get any easier this week for Sexsmith, they'll be on the road in Fort St. John on Thursday and Fairview on Saturday.
GRANDE PRAIRIE KINGS
The month of December has started with a bang for the Kings.
They won three straight games last week, 7-2 over Dawson Creek, 4-1 over Sexsmith and 3-2 over Fort St. John.
The Kings have a pair of home games this weekend, Dawson Creek on Saturday and Fairview on Sunday.
DAWSON CREEK CANUCKS
The Canucks have started slow in December.
They followed a 7-2 loss to Grande Prairie on Wednesday with back to back losses against the North Peace Navigators.
With the World Junior A Challenge going on in Dawson Creek this week, the Canucks will be on the road Saturday in Grande Prairie.
FORT ST. JOHN HUSKIES
The Huskies winning streak finally came to an end.
Fort St. John lost 3-2 on Saturday night in Grande Prairie.
They'll be at home to Sexsmith on Thursday, before travelling to Peace River for back-to-back games on Saturday and Sunday.