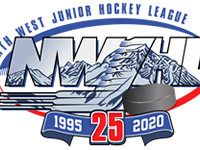 We're into the stretch drive with less than a month left in the regular season.
All six teams have less than 10 games left before the post-season will begin.
The league champions will go to Junior B provincials in Medicine Hat from April 2-5.
NORTH PEACE NAVIGATORS
The Navs have picked a bad time to go cold.
Four straight losses have dropped them down to third place in the standings.
They'll try to regroup with two road games this week in Grande Prairie and Sexsmith.
FAIRVIEW FLYERS
The Flyers are down in fourth place, but only four points out of second place (which would give them a first round bye).
Fairview won a tight 4-3 game against the Navs before getting shelled 10-2 against the Huskies.
They're at home against Sexsmith on Wednesday, and Fort St. John on Friday.
SEXSMITH VIPERS
The Vipers already know they'll be the #6 seed when the playoffs begin.
Back-to-back losses to Grande Prairie guaranteed that Sexsmith will finish in last place.
They have three games this week, in Fairview on Wednesday, in Dawson Creek on Friday and at home to North Peace on Saturday.
GRANDE PRAIRIE KINGS
The Kings have an outside shot at moving into the top four, but they'll need to get hot and hope for some help.
They swept a back-to-back set with Sexsmith before losing to the Canucks yesterday.
Grande Prairie will be at home to North Peace on Friday night.
DAWSON CREEK CANUCKS
The Canucks have moved up into the number two spot in the standings.
They rebounded from a loss on Wednesday to Fort St. John with wins over North Peace and Grande Prairie.
Dawson Creek will face the Huskies on Wednesday, the Vipers on Friday, and Fort St. John again on Sunday.
FORT ST. JOHN HUSKIES
Three more wins moved the Huskies closer to clinching the number one seed for the playoffs.
They can guarantee themselves first place if they can win all three games this week.
Fort St. John hosts Dawson Creek on Wednesday, before visiting Fairview on Friday and Dawson Creek on Sunday.
– Kyle Moore, Trending 55 Newsroom