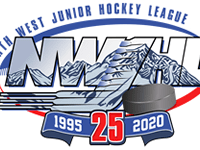 Some teams separated themselves from each other in the standings this week.
In first place still is the Fort St. John Huskies who now have a three point cushion over the rest of the pack.
Dawson Creek has jumped up to second place while the North Peace Navigators find themselves in third place.
NORTH PEACE NAVIGATORS
A trip across the border to BC didn't go very well for the Navs.
They lost both games against Fort St. John, 7-1 on Saturday and 4-0 on Sunday.
It's a quick turnaround for them though, they'll be at home against Sexsmith on Wednesday before having a home-and-home with Fairview this weekend.
FAIRVIEW FLYERS
The Flyers were swept in their home-and-home set against Dawson Creek.
The Canucks won both games by 7-5 scores.
Fairview is at home to the North Peace Navigators on Friday before the two teams play in Peace River on Saturday.
SEXSMITH VIPERS
The Vipers picked up a rare win on Saturday.
An OT goal from Clint Lefley gave them a 5-4 win over Grande Prairie.
Two road games are on the Vipers schedule this week, North Peace on Wednesday and Fort St. John on Saturday.
GRANDE PRAIRIE KINGS
The Kings find themselves tied for last place in the standings.
A 5-4 overtime loss against Sexsmith gives the Kings and Vipers identical 4-10-2 records.
The Kings lone game this weekend as a trip to Dawson Creek on Friday.
DAWSON CREEK CANUCKS
The Canucks moved up into second place this weekend.
A pair of 7-5 wins over Fairview moved Dawson Creek ahead of the Navs into that number two spot.
They're at home to Grande Prairie on Friday.
FORT ST. JOHN HUSKIES
The Huskies increased their lead atop the standings.
Two wins over North Peace (7-1 on Saturday and 4-0 on Sunday) gives them a three point lead for the top spot.
Fort St. John will be at home on Saturday against Sexsmith.
– Kyle Moore, Trending 55 Newsroom