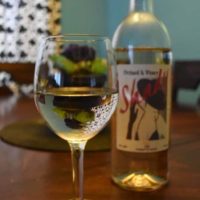 Happy Wine Wednesday, friends! This week I am uncorking something extra special because it is a locally made fruit wine from Shady Orchard and Winery in High Prairie.
The pear is my one of my personal favourite flavors offered by Shady. This wine is best served chilled, it is super crisp and and smooth. There is a really nice balance between dry and sweet. This would be very similar to any Riesling that you drink but the pear flavor is much more detectable.
Support the Local Economy, drink Shady.
– Kelsey